Tess & Nate: Salvage One
Photo: Maypole Studios

I have been replaying our wedding day over and over in my head. I don't think things could have gone any smoother, THANK YOU!  Obviously, the day was so special and so fun for Nate and I, and I think I told you at the beginning of planning I really wanted to impress these Ohio-ans and show them that a wedding can be unique and still be just as special…. and we definitely accomplished that!
I will never be able to thank you enough. I'll never forget the feeling I had when I walked upstairs and saw the tables and how great everything looked well before people got there. I tried to take it all in and I just couldn't because it was so perfect. It is like you just knew from the beginning what we were looking for and it was so nice to have you along the way. I know you started as our
planner, but now you are my friend. I just think of it and I start to cry because it was so fun and I hope you realize the amazing impact you have on people to make this time so special for them… You are wonderful at what you do.

Anne & Noah: South Shore Cultural Center
Everything was AMAZING. We were soooo happy with everything you did; the floral arrangements you designed were gorgeous, the food was excellent and the service was superb. Thank you again for EVERYTHING. You are so amazing. I can't wait for all of my single girlfriends to get married so they can get to work with you.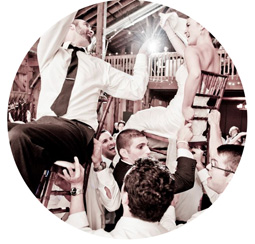 Jamie & Josh: County Line Orchard
Photo: Bowersox Photo
We really can't thank you enough for everything you did before, during and after our wedding to make it run as smoothly as possible and to to stick out in our minds as the best, most perfect day ever!! We hope to stay in touch with you, possibly work a wedding, or just grab a drink! As I recall saying at the end of our wedding – "Can we still be friends?" 🙂  Hope so! Thanks again for everything!

Tara & Sean: Museum of Contemporary Art
Photo: z+v Photography

Sean and I cannot thank you enough for EVERYTHING you and your team did to make our wedding day so special. From day one in the planning process, you have been such a big help and a wonderful person to work with. You were spot on with all your advice and helped us make the best decisions. Sean and I were so pleased with how everything looked and all of our guests keep telling us it was the BEST wedding they've ever attended (seriously!). This would not be the case if not for all your efforts. Thank you for your support during our difficult time this past month, thank you for enduring the frigid temperatures on Saturday evening and encouraging us to stick to our guns about the outdoor ceremony, and thank you for helping make Saturday flow slow smoothly.
Jade & Raj | Winter Garden at Harold Washington Library
Photo Credit: Joe Gallo Photography
Wedding Planner, I must say you out did yourself!  Sunday was and will always be the best day of my life – well the best day right next to the day Jade was born.  Do plan to coordinate the 10th wedding anniversary celebration!  Everything was beautiful and fantastic – the band and those drummers were amazing.  I am sure by now you must know that we are all very grateful to you and all of your resources in working so diligently with our kids, Jade and Raj in making this event a great success.  I am hearing a lot of buzz around my office building that this is by far the best and most exciting wedding that they have ever attended.

Jennifer & Don: The Peninsula Hotel
Photo: Riverbend Photography

Greetings from honeymoon central. Thank you so much for helping make our wedding a special, worry free day. I was pleased as punch with the outcome – job well done! Best of luck with your future endeavors!

Briana & Peter: The Four Seasons Hotel
Photo: Gerber & Scarpelli
Thank you so much for everything you have done over the past 8 months – I can honestly say I don't know what we would have done without you. Your knowledge, creativity and kindness were unbelievable – not to mention your patience! 🙂 You are amazing at what you do – thank you for helping my family and me over the past 8 months! I will miss our constant contact and would love to keep in touch! Maybe a coffee date to review wedding pictures?? Thank you for being such a dynamo! We couldn't have had the stress-free planning we had without you!

Kate and Tim: Peggy Notebaert Nature Museum
Photo: Pamela Luedeke

THANK YOU so-so-so-so much for everything. My wedding would not have gone as well as it did if you were not part of it, and I am so grateful and thankful for every little detail you and your team did in the design and décor as well as the planning. I have only heard amazing comments from people (a lot of "that was the best wedding ever because of the details you included!") about our wedding, and we cannot say thank you enough. I honestly could not have imagined a more perfect wedding for Tim and I than what we had.
Jessi & Ryan: Hotel Palomar
Photo: George Street Photography

Ryan and I wanted to thank you for everything from this weekend!  Our wedding turned out to be amazing, seamless, spectacular, memorable, and the best weekend of our lives!  We couldn't have done it without you!  You organized everything to the T.  From a flawless wedding rehearsal the night before – to an unbelievable day on Saturday – we couldn't have asked for anything more!  The flowers and decor turned out even better than we had imagined.  I know we probably stressed you out – but the end result was just spectacular – we are still overwhelmed by the weekend!
We got SO many compliments on you as well, especially from our wedding party that got to talk to you a bit more.  Everyone was like 'Lori is awesome!' – she's so cool, and did such a good job.  We couldn't agree more.
Rachel & Adam: Hotel Allegro
Photo: Michael Monar

It is absolutely safe to say the wedding was a success! Our friends and relatives have been gushing about the wedding – the huge amount of fun they had; the joyful and loving atmosphere; the uniqueness of the wedding and the expression of Rachel and Adam's individuality; the perfect unfolding of the night; the outstanding wait staff and delicious food; the incredible band. And many of Rachel and Adam's friends have said it was the best night of their lives.
And we could not have done it without you! You found a way for Rachel and Adam to make the wedding their own in the context of an elegant, perfectly planned affair that met Jim's and my needs as well.
We've so enjoyed working with you. You're fun, creative, down-to-earth, yet professional, well organized, and extraordinarily skilled. Thank you for patiently guiding us through the planning process, and for creating such a spectacular wedding – and weekend – for all of us.
– Linda and Jim – MOB/FOB
Anne & Jim: Architectural Artifacts
Photo: Tricia Koning

Well, I have to say our event on Friday exceeded Jim's and my highest expectations by miles and miles!! It was the most beautiful and delicious event I have ever been to!!  Most of our guests said the same thing and many are seasoned Chicago event "veterans"!  WOW!!
I took out the photo yesterday that I had pulled out of a bridal magazine many months ago of an event I wanted to
emulate and I think our party turned out to be even more beautiful and unique!! The flowers, lighting and food were spectacular!!  My only regret is that I didn't have more time to just sit back and drink it all in but I guess that's the way it goes when you're the bride!!

Christina & Russell: School of the Art Institute Ballroom
photo by Eivan's Photography
I have no words for what a savior you were on the wedding day and the days leading up to it! You really were the glue that held my family, the wedding weekend, and me together. You are amazing at what you do! (I plan to write glowing reviews) But most of all you were a friend who helped me through a stressful but amazing time. It was a blessing to find you, and I truly hope we can remain friends! Woo Hoo! I'm married!!

Marian & Mike: MCA
Photo Credit: Studio This Is
Thank you SO much for everything! Words can't describe how thankful we are for all your help and support throughout the year. Not to mention how many compliments you've received. My favorite was Mike's brother-in-law who said: "Can I hire her to manage my life?" =)
– Marian & Mike
Nicole & Jim: Pritzker Stage at Millennium Park
Jim and I were engaged in July 2006 and chose to be married on May 12, 2007.   With the venue picked, we defiantly lost focus on the other details that needed to be planned for the wedding.
We knew that the wedding was only five months away but we are both busy professionals and struggled to get things done. This is when LOLA's assistance really paid off. They helped coordinate meetings with vendors, kept us on schedule, and helped guide us in our budget decisions. We own many thanks to LOLA for being a part of this process and for her efforts to get us back on track.
LOLA took the stress out of our planning, understood what we wanted, and took charge of the details. It is no surprise that everything got done, she is quite organized.   LOLA went above and beyond in helping us plan such a beautiful day.
Ellen and Jo | The 19 th Century Club
After months of planning on our own, we realized we needed help.  Lori's expertise was exceedingly helpful as we met with vendors and made decisions, calming our anxieties and giving us lots of great ideas.  She saved us a great deal of money on linen choices alone!  She was responsive and helpful with all of our questions and was always professional.  She handled everything on our wedding day from one of our nephews refusing to wear the flower on his lapel, to no chairs for dinner after the ceremony.  As a lesbian couple, we found Lori to be totally at ease with our non-traditional crowd and us as a couple.  It was a pleasure working with her and we highly recommend her services!!