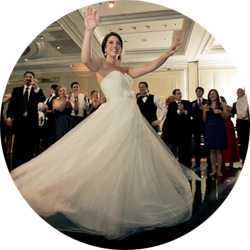 Implementation Services
We hate the term "Day Of Coordinator." It doesn't come close to what you need in terms of expertise to get you through the final stages of planning and implementing your wedding or event without sweating the details and logistics.  Work with one of our highly trained Associate Coordinators with a minimum of 3-5 years of experience with LOLA in the last 3-6 MONTHS prior to your event to implement your event smoothly and effectively. Build a relationship with your coordinator that allows you to gain the trust you need to release the reins of the logistics management! Get your timeline prepared BEFORE your other vendors start reaching out with all their questions and go into the final phase of your planning in control of the details.
Base Inclusions:
Timeline Planning Meeting: to review all last minute details and logistics of event – walk thru at event venue to discuss floor plan, flow, etc if needed with caterer, venue contact, décor team and complete the comprehensive 5 page LOLA event implementation detail checklist.
Logistics Coordination: Create a complete production and event timeline for event, create vendor contact sheets and distribute to all vendors
Final Touch Base Meeting: 1-2 weeks before the event go over all the details one last time with your coordinator, hand off your personal items, and sit back and relax as the big day approaches
Wedding Party Timeline: Create Specific timeline for wedding party – distribute and review at rehearsal or to a provided email list the week of the wedding
Coordinate Décor and Design: Work with the florist and other relevant parties and assist with labor and all details for décor the day of the event to assure proper and timely execution
Advisement and Confirmations: Advise on gratuities and reconfirm all event details the week of the event including set up and strike times, vendor meals, rider inclusions and details that will make the event run smoothly with no surprises!
Rehearsal: Direct or assist with rehearsal the day prior to the wedding, make announcements, distribute wedding party timelines, etc in conjuncture with or in lieu of officiant
Production: Approximately 10 hours on day of event to supervise deliveries, set up, implementation & strike
Manage all moving pieces of the event: Direction of vendors, attend guest needs and inquiries, trouble-shoot challenging situations, etc
Late Night Wrap: Return Bridal Checklist Items to Bridal Suite prior to end of service – or pack in car of pre-designated friend or family member
Event Emergency Kit: It's Huge and you want it! Ask us what the weirdest thing in there is and you'll be surprised!
Staff to include your LOLA Pro + 1 highly trained assistant
Book your Implementation with LOLA up to 6 months before your wedding date. Base package hours, staffing and inclusions starting at $3500 and bookings are limited each weekend.