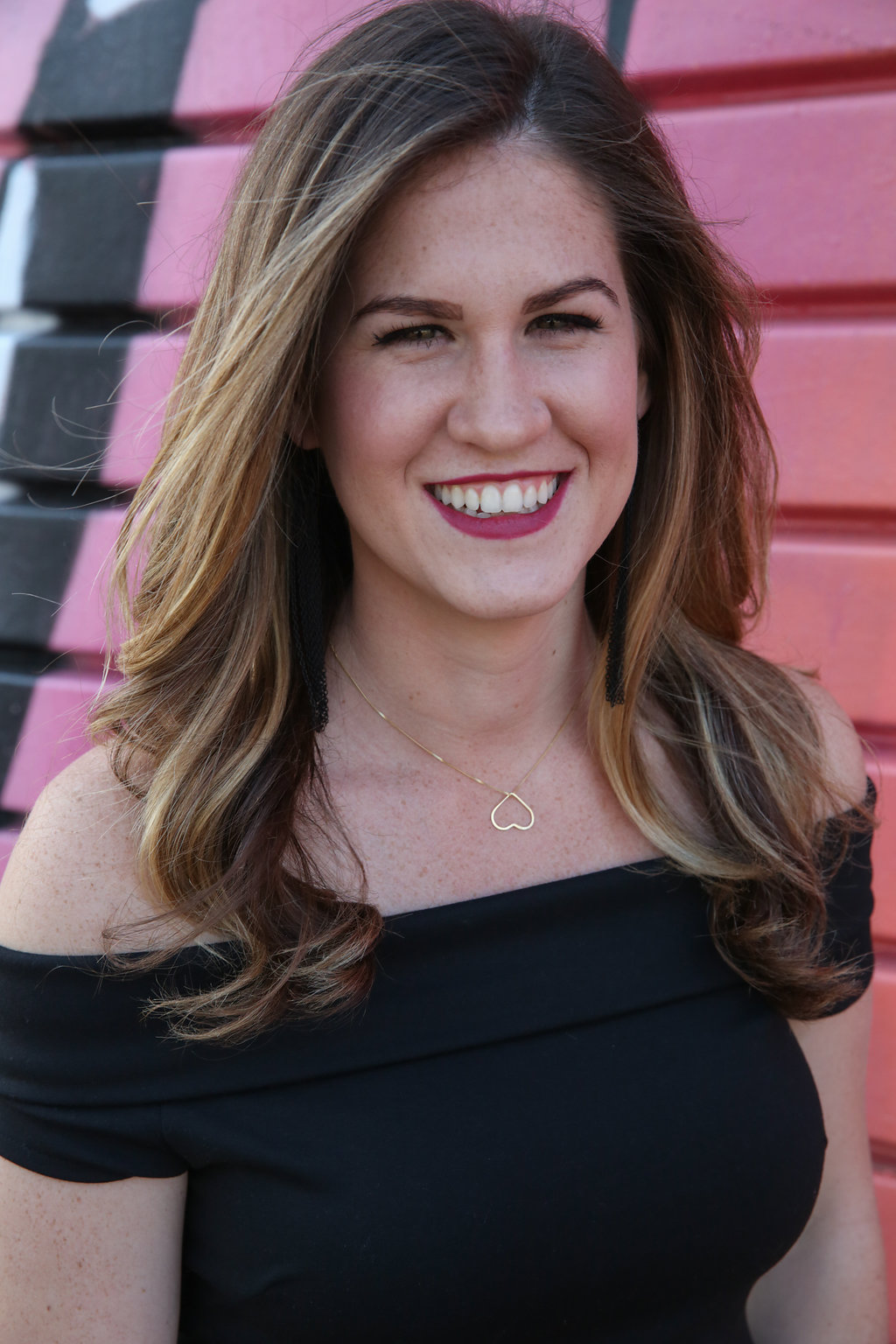 CONTACT MICHELLE FOR HER AVAILABILITY FOR YOUR WEDDING DATE:
about MICHELLE Kurinec
How's it goin? I'm Michelle – the only LOLA currently without a name twin because I'm 100% unique (so I tell myself). I've been a devoted member of the LOLA team since 2014 and have over 125 events under my belt – which seems to keep getting tighter, and there's no one to blame for that but wedding cake (I prefer chocolate – thanks for asking). I know a lot of people fall into this job, but for me, it was always the end goal.
I grew up in a household that was built around entertaining – candles were always lit for company to come over during the week, and St. Patrick's Day was no joke. I knew the only true path to happiness for me would be to turn entertaining into a career, so I started my degree in Hospitality at Purdue University – Boiler Up! – and never looked back.
Honesty is the best policy and my number one motto. If we're working together, you'll never question my opinion on a matter, and I will always manage your expectations to make sure there are no surprises. I promise to make the planning process manageable and fun, no matter how much or how little we have to do in whatever amount of time you give me. I will never overwhelm you with choices, and promise to give you my truthful suggestions to help you make the right decisions for your day!
I love to be creative, and the more inspiration you give me, the more I can help you produce a day that is absolutely unique to you as a couple. I personally hate to mimic events that have already happened, and instead, I prefer to design an atmosphere that is based on something special to you – a favorite painting, grandma's china pattern, the way your living room is designed, or even inspiration you may have found on travels you've taken together. I even promise to keep you and your style in mind while I'm on my travels, because I'm currently in the process of exploring the world. Don't be surprised if at our design meetings I throw out an idea or two that may be head scratching – you're totally welcome to say no, but that doesn't mean I won't keep putting them out there until something different sticks!
On the day of your wedding, I promise to be as involved or as uninvolved as I need to be at any which moment of the day. Don't be shocked if you hear me say "Let me do the worrying – you just have a glass of champagne!" because by this point, you've trusted me to put together a solid team of vendors that I have total confidence in to execute the day to the absolute fullest. That leads to a successful wedding day, allowing me to stay mellow, let the team do their thing, and keep you cool and collected. You get to worry about spending time with your nearest and dearest, and leave the wrangling of the masses to me. I even promise to threaten your wedding party with a lack of alcohol until they do what I need them to – which is a tactic that has yet to fail me thus far! And, if and when all the formalities are done, the dancing has subsided, and "Closing Time" by Semisonic has sounded at the end of your after party, you want to send me your most true selfie of you both eating the Shake Shack I left for you next to your hotel bed, I wouldn't be opposed…
So, if you're still reading this and you want to know a little more about me that's not necessarily wedding related, you've skimmed to the right paragraph. I'll be honest – the majority of my weekends are spent turning clients and colleagues into friends, but on the rare occasion I don't have to send someone down an aisle, you can usually find me perusing the restaurant scene, whether that be in Chicago, or another city that may or may not already be on my radar or stamped in my passport. I'm a sucker for a good tartare, an extra dirty martini, and mint chocolate chip ice cream – I actually am convinced my 5-year-old self hates me for not having a tub of ice cream in my freezer at all times. Some other things not food related – I pretend that I like to work out, but it's really just to counteract all of the wedding cake, I can tell a mean dad joke, I 100% believe that aliens exist whether it be in human form or other, I'm desperately awaiting a cover of "Ignition (Remix)" so I can go back to not feeling guilty about the love I have for that song, and I'm the President of a foundation – Jeanne's Journey for Hope – which my big, Irish family has created in honor of my mother. It's a way for me to take my love for events and put it towards my other passion of helping families who have been so deeply affected by cancer, like my own. And, to be honest, it's another excuse for our family to throw a big, annual party where we can all be together and remember the coolest woman I have ever known and the person who first planted the words "wedding planner" into my head.
Finally, for those who are as unenthused about reading as I am – The SparkNotes: If you think you're looking for a planner who will always tell you the truth, who will dare you to be different when it comes design, who isn't afraid to boss your rowdy wedding party around to get the job done, who promises to tell a few dad jokes per meeting, and who will gladly swap restaurant and travel recommendations with you, then let's make it happen – talk soon!
FOLLOW MICHELLE ON INSTAGRAM
A FEW OF MICHELLE'S RECENT EVENTS & PRESS
WORDS FROM MICHELLE'S CLIENTS
Hiring Michelle for our wedding day was the best decision and money we spent by far. She is the epitome of what you need in a planner – calm, decisive, straightforward, never makes you feel like you have a dumb question and allows you to make your own decisions while providing guidance and gently pushing you to think outside of the box.
Most importantly, she made a very stressful process fun. Her knowledge of Indian weddings blew me away and allowed us to create an Indian/American wedding that exceeded any expectations I had – it exuded who we are as a couple.
She was a wonderful resource and source of comfort to our parents as well. They cannot stop commenting about what a fabulous job she did. Her ability to handle the entire process from the first five minutes of our first meeting to the last five minutes of our day was unmatched. You can tell she genuinely cares about making your wedding special and simply put she is amazing at her job. If you are considering hiring Michelle at Lola Events, please do not hesitate.
.
~ROSHNI

BRIDE
MEET MORE OF THE LOLA TEAM