As a wedding planner who has been planning luxury weddings in the Chicago market for 10 years, and in a relationship with her partner for 11 years, it's safe to say that my partner and I have dreamt about our wedding day once or twice. We are a couple who truly takes pride in creating fun, stylish, unique, and lavish experiences for our friends and family, and we were excited to give our loved ones a taste of what we get to experience on an everyday basis, as it's not every day they are surrounded by the glorious and glamorous world of luxury weddings like myself, and via numerous industry event invitations, Shane. Needless to say, we poured our heart and souls into every last detail to ensure the day was nothing less than perfection, and to my own surprise, our expectations were exceeded beyond measure, which, as a self-admitted perfectionist, is hard to do!
The day started out at the Intercontinental Hotel where we decided to get ready with our wedding party. The Presidential Suite is second to none in the city, and I knew it would be the best backdrop for photos, and the most comfortable spot for Hair and Makeup by Bianca Sansosti's team, as I decided to include not just bridesmaids in the getting ready process, but close family and friends as well. I suggested that everyone wear their most "Michelle like" PJs, which meant color and pattern, and my bridesmaids and myself wore various styles of PJs via Averie. I was so excited to put on my gown from Eisen Stein, and to complete the look with the splurge worthy purchase of my Sophia Webster heels. The bridesmaids were free to choose gowns in shades of jewel tones in a style they felt most comfortable in, and while it's not typical for groomsmen to be excited by their ensembles, when we told them they would be
wearing technicolored jackets of various shades and patterns from Studio Suits and Emanuele Tuxedo, their eyes lit up and they couldn't wait to snazz themselves up too! Since Shane is typically a lover of colorful, patterned filled jackets, we decided it would be such a fun idea to dress the guys in his signature style, and then keep him in more of a classic style of black velvet for the majority of the day.
That said, we wanted to make sure to kick off our wedding with a bang, and that's where we decided it would be a blast to welcome our guests into the venue with a pre-ceremony cocktail hour! Shane and I decided what better way to greet our guests than by mixing up cocktails from behind the bar, just like we would do at home. We each changed into our bartending uniforms – mine was a white midi dress from Mew Mews Fashion featuring feathers on the top and bottom, and Shane's a glitzy gold tuxedo jacket with black lapel. We each served a signature cocktail inspired by our moms, naming them as such, "The Jeanne" in honor of my mom who is no longer with us, and "The Jody" in honor of his mom who got a kick out of having her own drink and cartoon character, and the cocktail napkins featured the other love of our lives, Tikka, our little black cat who unfortunately couldn't be in attendance. Our guests were floored by the idea of bride and groom bartenders, and everyone had so much fun taking selfies with us as we whipped up their drinks. It was the perfect way to see all our guests in an engaging way, and a great way to rid some of the ceremony nerves.
Finally, it was time for the ceremony that took place in the round, under the floating altar of our dreams and on top of a rug we purchased in Marrakech that Shane so graciously carried across three continents for me. This concept was the design idea that sparked the ideas for rest of the décor for an evening. I always knew that I wanted a ceremony in the round as it creates such intimacy in a space. We knew we wanted a colorful and bountiful ceiling of floral adorned with various styles of chandeliers and lighting applications, and then Brittanie from HMR and Daniela from Frost came up with the brilliant idea to trim the installation with scalloped valances decked out in patterns that I had watercolored myself for the most amazing invitation suite and paper goods designed by Stacey of Steracle Press. The aisle was adorned with additional black and white striped planter boxes inspired by the Colonnes de Buren in Paris, which is where we took our very first international trip together and plan to travel back to in the coming weeks for our honeymoon. The ceremony was officiated by my two brothers, the only people we knew would made sense to marry us, and to officially welcome Shane as the first non-blood member of our extremely close sibling club. We wrote our own vows (mine may have ended in a musical number) mixed up a unity cocktail instead of lighting a unity candle, and even had our own "wedding scratch off" which entitled one lucky member of the audience to their very own bar fast pass, and one lucky member to give a heartfelt, yet impromptu speech about us. There wasn't a dry eye in the house either from laughter or tears, and we have even had countless guests tell us that even though the ceremony ended up lasting over 40 minutes, they were sad when it came to an end.
After another round of cocktail hour (because can you ever have too many cocktail hours?!) it was finally time for our guests to sit down and indulge in our perfectly curated menu provided by Food for Thought Catering and our meticulously adorned dinner space featuring colorful and patterned linens from Nuage Designs, rattan chargers from BBJ La Tavola and black and white striped placemats from LOLA Valentina. The goal for this space was to make it seem as though we were inviting guests into our home, which has been our labor of love over the past year, splashed with color, pattern, texture and an abundance of plant life, mimicked by the palm projections on the walls and the elevated tabletop centerpieces. Guests found their seats via their escort cards, which featured a hand written note by Shane or myself reminiscing on a favorite memory or sentiment we wanted to share with each guest that made the time to attend our big day.
We started dinner off with a meatball trio featuring a variety of proteins and sauces (because you don't make friends with salad) and then lead guests into an entrée of Short Rib, Chicken Pot Pie, or Mushroom Gnocchi. Dessert was a sinful mix of the outrageously colorful, patterned and disco wedding Cake provided by ECBG Cake Studio, Gibson's Chocolate Mousse pie, which is a birthday staple in our household, and petite, boozy milkshakes passed on the dance floor to cool our guests down when they were too hot from dancing up a storm to the beats of DJ Chris Somera from Elegant Sound and Lighting. And we of course couldn't let our guests leave for the after-party hungry. In true Michelle and Shane fashion, we ended our night with a cart of late-night Dim Sum from Ming Hin, our favorite Chinatown spot to end any night of drinking and fun.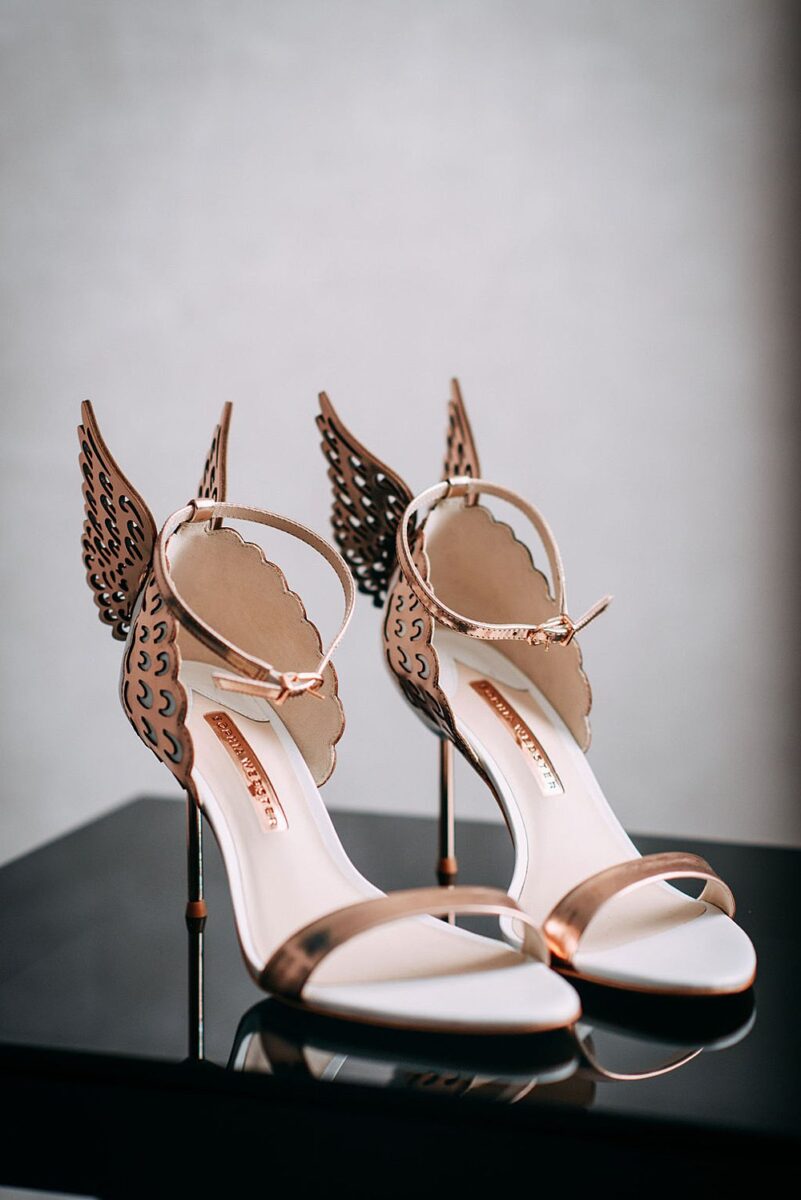 ---
Vendor Team