Cassie and Brian are a laid-back couple that wanted a more unconventional and fun reception flow that fit with their casual style. To achieve this, we decided on a cocktail style party that followed their ceremony at the chic Mae District in the South Loop. Cassie's favorite flowers were gerbra daisies in vibrant colors, and this palette was perfect for their whimsical July wedding in this clean elevated loft-style venue. We chose shades of blue to anchor the design. The bold aisle runner, bridesmaids gowns and linen created the perfect complement to make the oranges, reds and yellows of the bouquets and wedding canopy pop.
While the floral by Ashland Addison Floral stole the show, Food for Thought created food stations that were as visually fun as they were tasty to add to the festive atmosphere. Guests were able to move between building their own poke and tacos to grabbing salads off a green wall (because TIME SAVING TIP: NO SEATING ASSIGNMENTS to display on a green wall!) and grabbing beer and slider pairings from strolling waiters as they passed by. In fact, each food station featured its own cocktail pairing and guests went crazy for them! The couple's beloved dog, Bucky (Go Badgers!) made an appearance on all their food and drink station signage right down to his own personalized ice cream scooping station that was offered for dessert. Couples ate, drank, danced, ate some more, drank some more and danced A LOT all evening long.
I know so many people worry about not doing a sit-down meal for their celebration. That it will somehow feel less impressive to guests or that older people will be upset they don't have an assigned seat. I'm here to tell you, guests LOVE this style of party. The rave reviews Cassie and Brian received from their guests prove it!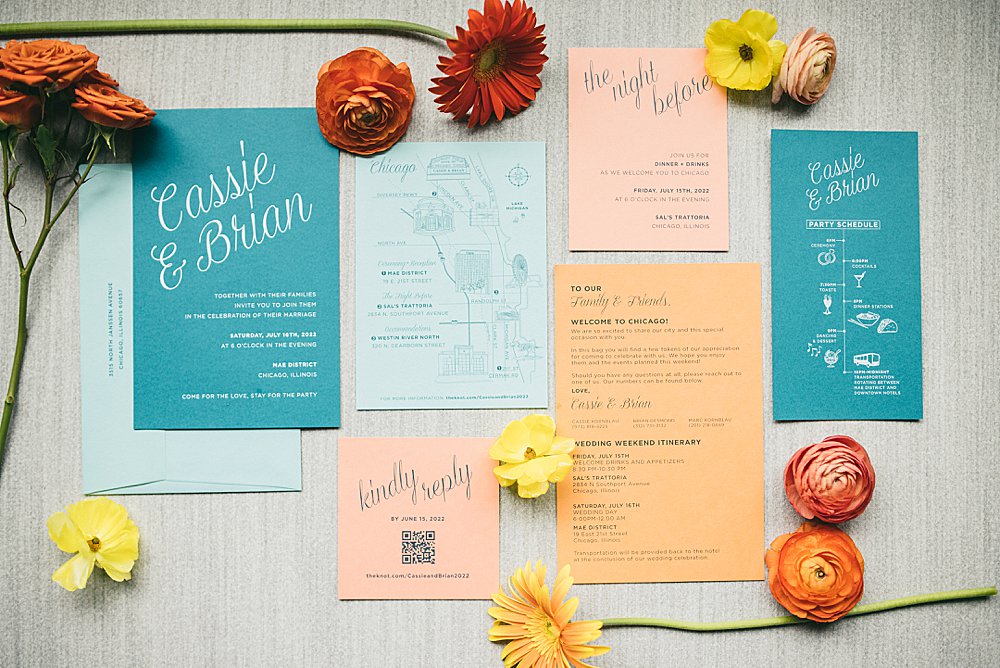 ---
Vendor Team