As a wedding planner in Chicago, we do a lot of gorgeous classic traditional wedding designs, and it's always timeless… But when Kimberly and Chris came to me with their love of tropical flowers and openness to explore pattern and color, I was incredibly excited to hop outside the design box with them! We decided first on the historic Mies van der Rohe design of the Langham Chicago and combined that with the Deco meets modern take on tropical-inspired by South Beach. What we created was truly original and spectacular!
Our Memorial Day weekend dawned warm and sunny for our Friday evening welcome cruise on Chicago's First Lady. We used some tropical linen, photos from the couple's engagement shoot with Amanda Megan Miller Photography, and sprinkled in some Chicago fun facts to set the mood. Guests enjoyed an evening of enjoying the city views from the Chicago River that started the weekend off right.
On K&C's wedding day, guests enjoyed the ceremony in the ballroom and then headed out to the iconic plaza overlooking the river for their cocktail hour. Fun fact, it was SO WINDY our escort card display (anchored by hundreds of pounds of weight) kept blowing over during set up, so we had to think quickly and creatively and relocate it to the foyer outside the ballroom… It is the Windy City after all!
Upon entering the ballroom for the reception, guests were welcomed by soaring centerpieces, textural linen, monstera leaves peeking through from under the gold accented charger plates and an incredible custom patterned dance floor by HMR Designs that wrapped up and over the Chicago Player's stage (with matching patterned bandstands) and then continued to soar to the ceiling. It was truly an incredible focal! A cake that featured a deconstructed design of the same pattern by Flourish sat like a queen for everyone to oooh and ahhh over before dancing started. Guests wound the night down with a DJ and late-night bites in another smaller and more intimate space in the hotel where we repurposed the lounges and bars from our outdoor cocktail hour but with colorful lighting and sparkly linen to give it that after-party vibe. I am so incredibly thankful to clients like Kimberly and Chris that really let us flex our creative muscles.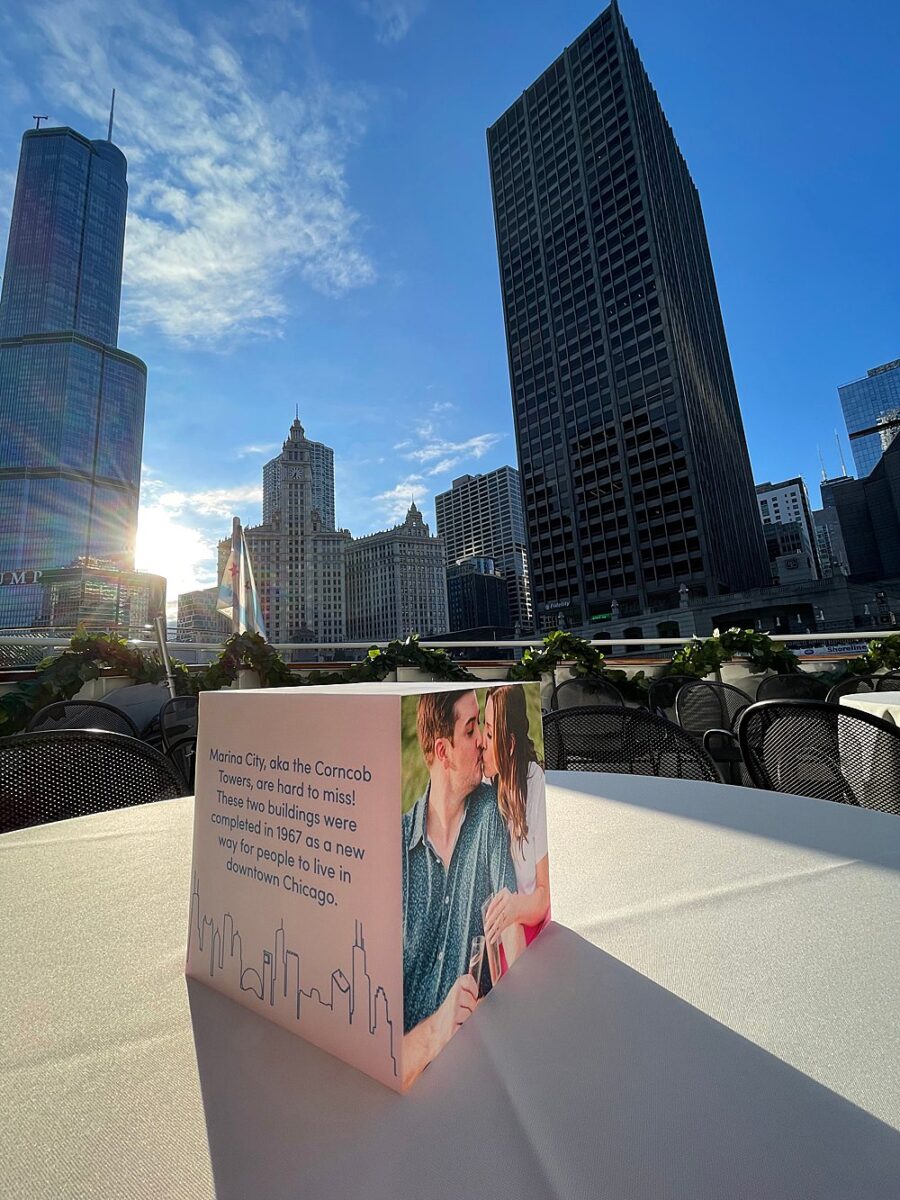 ---
Vendor Team