Carmel and Dylan were originally planning a church wedding and tented reception for 400 guests overlooking Lake Michigan in June of 2020. When they postponed to October it was with the hope the worst of the pandemic would be over and they might still be able to celebrate in their outdoor venue in the fall with their original guest count. As we all know in hindsight… that was wishful thinking! They opted to hold an intimate fall wedding at North Shore Country Club
With a quick switch of reception venue to their family's country club, a safer and smaller gathering was planned. That said, this was a venue where the family spent a lot of time, and they wanted to make it feel extra special and just a little bit more 'extra' for the wedding day.
In addition to the gorgeous tabletop décor, Revel Décor created a stunning staircase and fireplace feature to transform the space from ordinary to extraordinary! The club looked so good that even their normal patrons were "ooohing" and "ahhing" as they popped in when we were setting up! Instead of dancing, guests were served a 5 course plated meal with socially distanced tables of different sizes to accommodate family groups, and there wasn't a dry eye in the house as Carmel and Dylan had their first dance amongst their nearest and dearest to a pared-back Ron Bedal Orchestra. Flourish provided the sweetest cake that featured one of the bride and groom's favorite quotes and Steracle Press customized table numbers in Gaelic and programs and menus with small shamrocks and Irish harps to pay homage to their Irish heritage. The dream team of Kent Drake Photography and Highway 61 Films captured everything. This will allow them to share the experience highlights at their first-anniversary celebration in that tent with 400 guests this fall.
It was extremely difficult for Carmel and Dylan to cut their list as it became clear the original plan wasn't safe. They are both from large families and have been together since high school and are from the same small and close-knit community. One of our favorite parts of the day was when extended family and cousins surprised the bride and groom outside the church with signs and cheers to see them drive off in their getaway car! It was a true testament that your loved ones will do ANYTHING to make your wedding day special.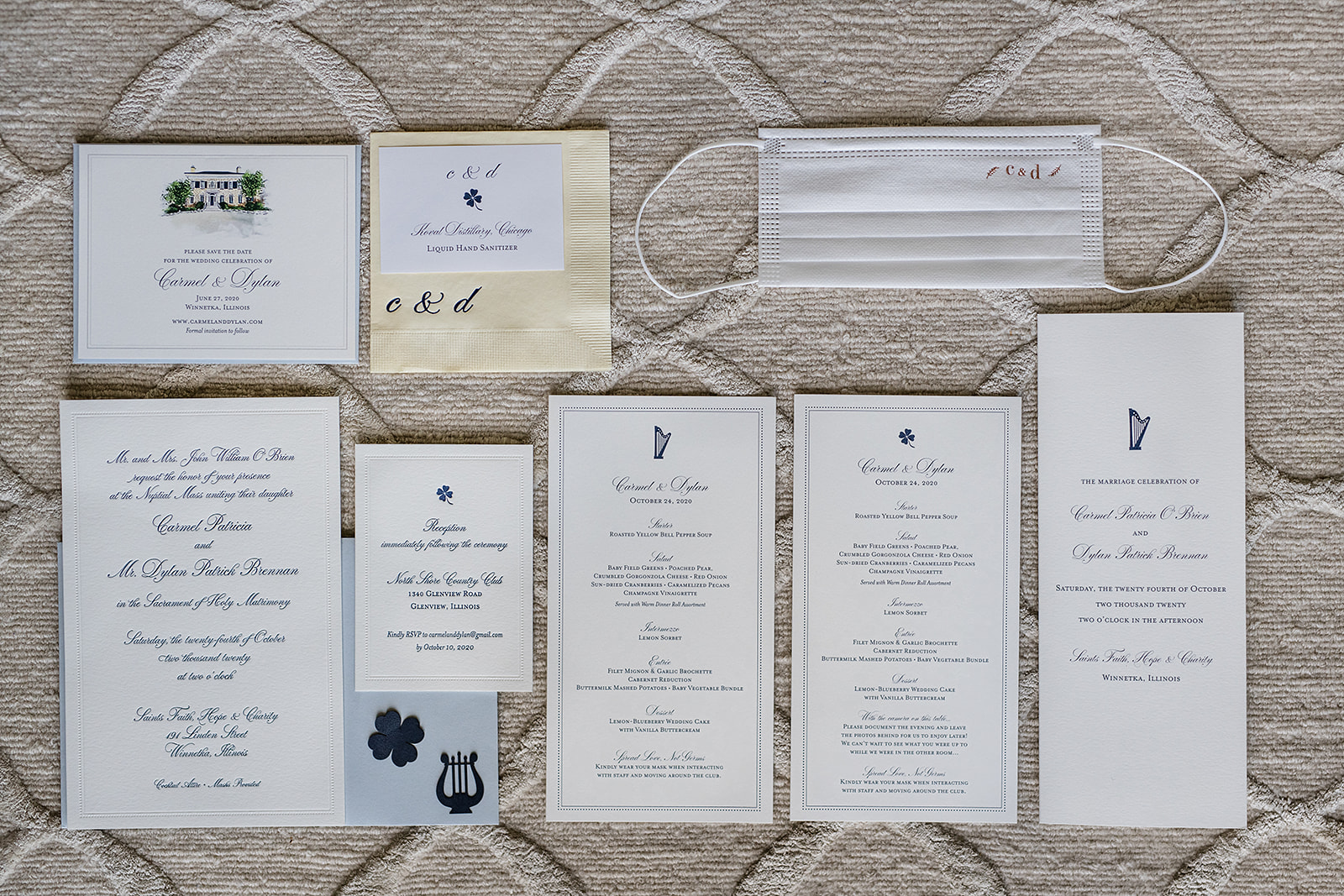 ---
Intimate Fall Wedding at North Shore Country Club Vendor Team