To create a tropical, moody affair in Chicago at The Joinery, you have to have a couple that oozes style and flair. David and Ashley are a fun, culture-filled, chic, down-to-earth couple that know what they want in life and made easy decisions during their wedding planning process. We knew we wanted to set a moody, stylish tone with purposeful accents of bright, lush tropical floral to create a gorgeous juxtaposition of sultry and tropical chic.
The day started when Ashley arrived at the venue to do the finishing touches of hair and makeup and to get into her sleek, modern gown. Her look was divine, and I expected no less from her. Eric Floberg had a field day photographing this beautiful bride in so many nooks and crannies of the Joinery – the ideal setting for this type of event. The focal pieces of our "in the round" ceremony lent as the perfect backdrop, and the peacock chairs later used for the sweetheart table became an essential accessory.
Once David arrived and had some fun in the courtyard with his best pals, it was time for the two to do their first look and take some "wow!" portraits. After portraits, the couple welcomed their guests to a pre-ceremony cocktail party where guests sipped on Somy Spritz's, a signature cocktail named after the duo's fluffy pup. Finally, guests took their seats, and David and Ashley put on a raw, emotion-filled ceremony.
Now it was time to party! It was back to the courtyard for the guests as the vendor team worked their magic and flipped our ceremony space into the party this couple had always dreamed of. Sheer, black graceful runners from BBJ Linen graced the farm tables of the Joinery and were topped with towering tropical foliage, black candlesticks, lush, reflexed red Baccara Roses, pink kangaroo paws, and massive king protea. The tables were finished with menus from Minted, handmade by the bride candle favors, and a duo of dipping sauces ready for homemade, Asian dumplings from Feast and Imbibe to be dunked. The room was complete once the gorgeous semi-naked cake from Flourish Cake Designs graced the dancefloor, topped with two Tigers, as a representation that both members of the couple were born in the year of the Tiger.
The party went off without a hitch, Ashley made a jaw-dropping outfit change and guests danced the night away to the tunes of DJ Chris from MaryMonica Music. This chic, cultural affair was truly one for the books!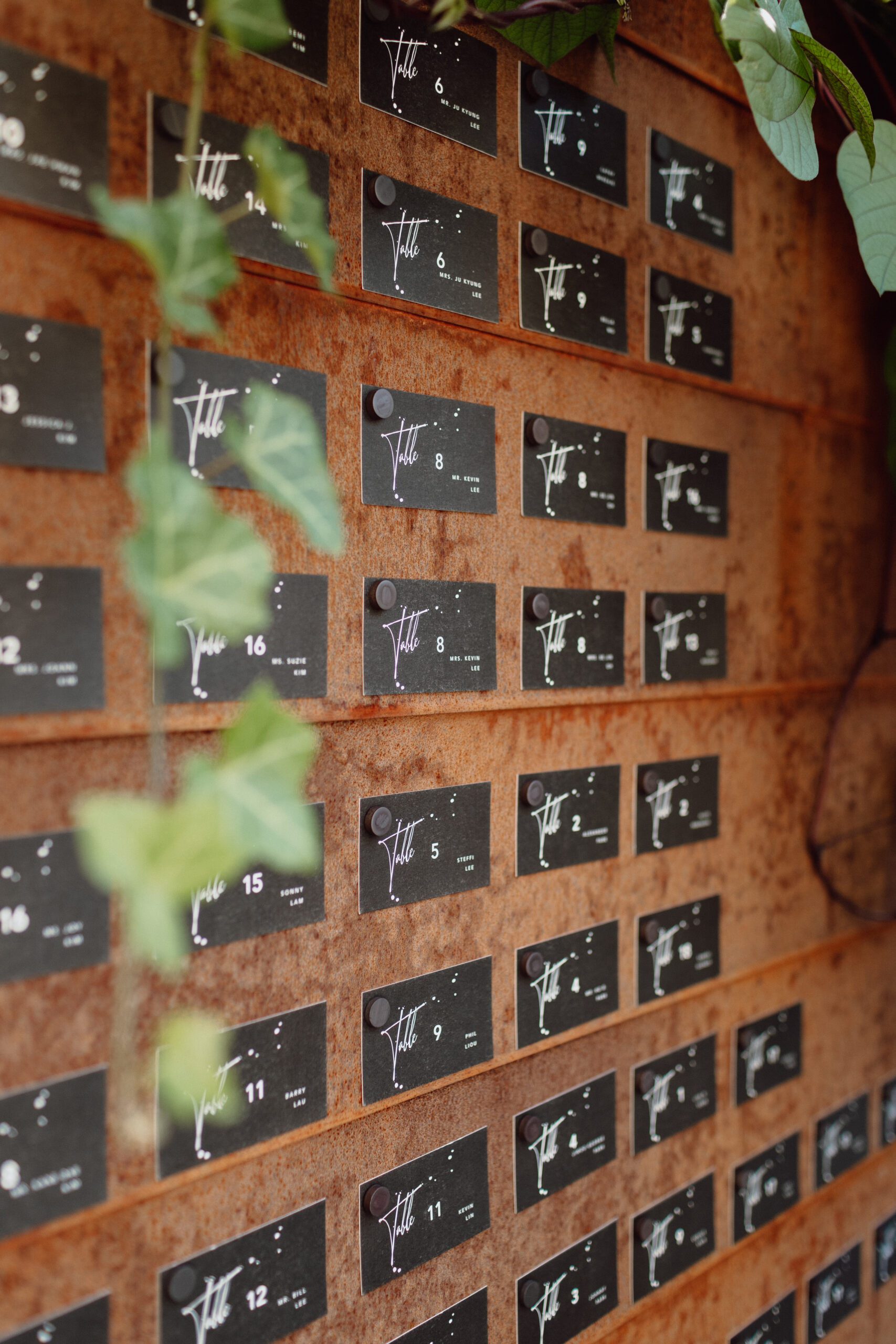 ---
A Tropical, Moody Affair in Chicago at The Joinery Vendor Team