I kicked off the busy wedding season with the sweetest couple – Audrey & Marc- at their stunning summer hotel wedding in Chicago! Together with Audrey's parents, we planned a day that was a total nod to Audrey & Marc's love story. I love getting to show off the city I love to others, and this wedding did just that!
Audrey (originally from Ohio) and Marc (originally from Michigan) met while they both attended college at Loyola University in Chicago. They knew right after their engagement that they wanted to be married on campus at the beautiful Madonna Della Strada Chapel. They were also pretty open to venues, but knowing that a large percentage of their guests would be traveling from Ohio, Michigan, and even the Philippines, we focused our search on hotels. The Swissôtel popped up on Audrey's radar after learning of a new ballroom renovation. After a site visit to see the ballroom called Eleve, which was very much under construction and just lots of metal and concrete at the time, Audrey and Marc knew they found the perfect location for their reception. The ballroom had full views of Lake Michigan, Navy Pier, and the Chicago River. What more could you want for all of your out-of-town guests?!
Fast forward to Audrey & Marc's wedding day – one full of love, laughter, and lots of happy tears! Audrey and her bridesmaids had a fun morning getting ready the Rare Bird Beauties before they left for Madonna Della Strada Chapel. Audrey and her bridesmaids looked stunning as they walked into the chapel with Lake Michigan as their backdrop. Marc and his groomsmen arrived very relaxed and ready to go.  Audrey & Marc opted to skip a "first look" and see each other for the first time as Audrey walked down the aisle. What a special moment!
Post ceremony, Audrey, Marc, and their wedding party went around the city with Amanda Megan Miller and Poetic Productions for photos and video, and guests made their way back to the Swissôtel for cocktail hour. Back at the Swissôtel, guests were greeted by a large escort card wall, expertly created by Exquisite Designs who decorated it with gorgeous foliage and floral. As the doors to the Eleve ballroom opened, everyone's faces dropped as they soaked in the views of the city – which was awesome for the Navy Pier fireworks later in the evening! Audrey & Marc's navy and blush color scheme were the perfect colors to dress up the ballroom. Ivory and blush floral from Exquisite Designs adorned all the tables, which were complemented by the prettiest new blush linens from BBJ.  Clear "crystal" Chiavari chairs completed the look and complimented the ballroom's chandeliers and glass windows. One of the most special touches of the day was the collection of photos of Audrey & Marc's parents, grandparents, and great grandparents that were displayed on ledges in Eleve. It's always so nice to see a glimpse into past family weddings and a great way to include family members who are no longer here.
After some speeches, dinner, and special dances, DJ Dustin Harris got the dance floor going, and immediately the floor was packed for the rest of the night! Soon, the Navy Pier fireworks started as guests danced and others went by the window to watch. What a perfect way to end such a perfect day!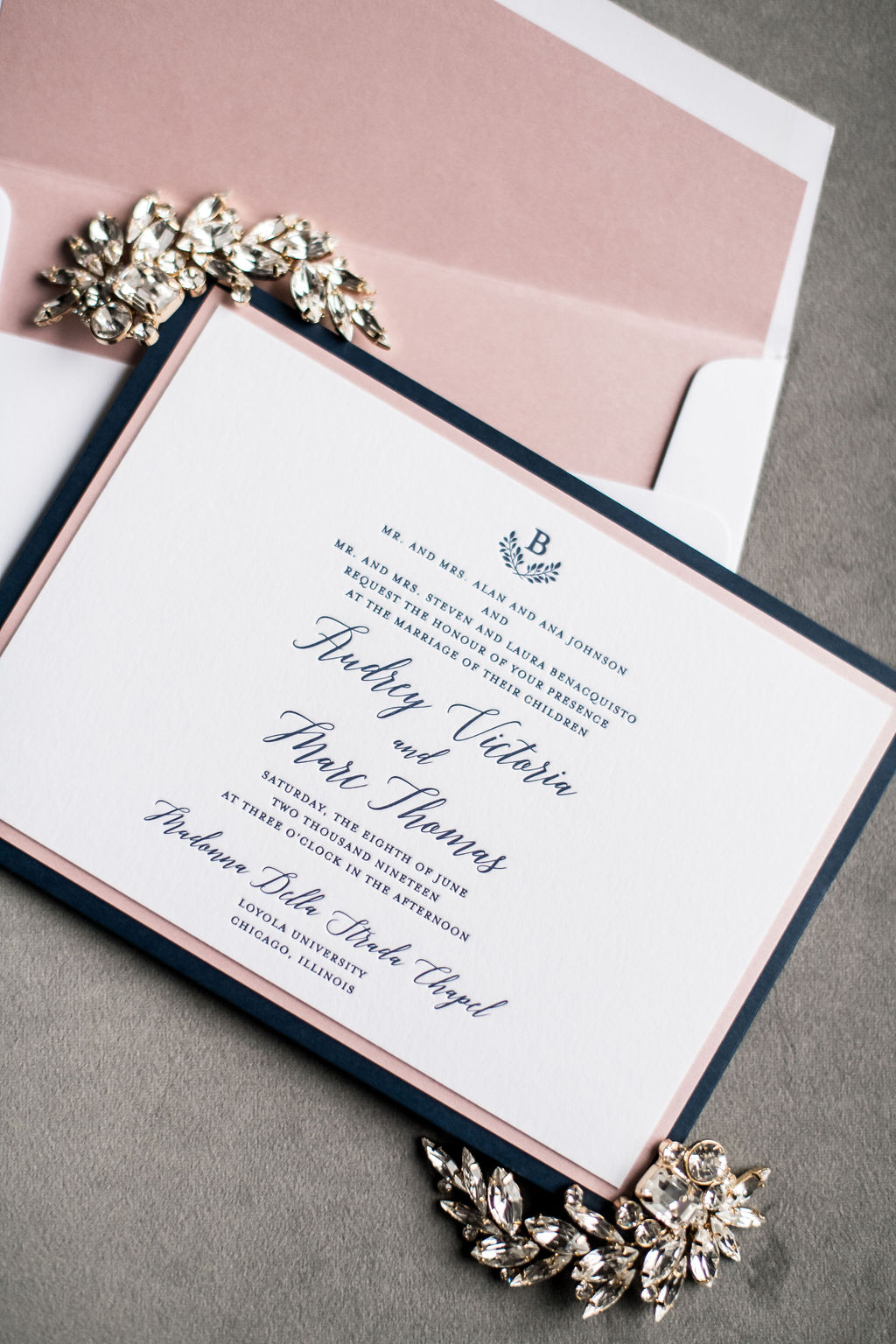 ---
Stunning Summer Hotel Wedding in Chicago Vendor Team