Hillary & Sean's Summer Wedding at The Art Institute of Chicago's Stock Exchange Room was filled with so much meaning and love. They came to me after finding their perfect venue – the Art Institute of Chicago's Stock Exchange Room – to help them navigate planning a Chicago wedding from afar (they had just relocated to Denver, Colorado). I love learning all the special details behind clients' wedding decisions. In Hillary & Sean's case, they chose the Art Institute for their July 2019 ceremony and reception because it was the location of their very first date!
A lot of couples are nervous about planning a wedding while living in a different state, but it is totally doable with good communication and organization! Hillary and I strategically planned our meetings around her trips back to Chicago for work or various wedding-related events like dress fittings and bridal showers. It was so much fun planning with Hillary as she was so excited during the entire planning process!
Hillary and Sean's tastes leaned more toward the traditional side and went well with the traditional feel of the Art Institute's Stock Exchange Room. The space has a lot of dark wood tones and a beautifully designed ceiling, but no natural light. To brighten things up, Hillary chose a pretty color story of bright coral, shades of blush, and touches of peach and ivory. Exquisite Designs found the most beautiful coral charm peonies to use throughout the ceremony focal pieces, reception centerpieces, and ladies' bouquets. White tulips were her grandmother's favorite flower and were even included in a touching moment after Hillary got in her wedding dress.
Hillary and Sean's wedding day exuded Chicago elegance. Guests arrived at the Art Institute of Chicago's main Michigan Avenue entrance for a ceremony on the Grand Staircase. Following the ceremony, cocktail hour took place on the Grand Staircase and guests had access to the Impressionism gallery. As guests made their way to the reception they were greeted with a jaw-dropping boxwood champagne wall perfectly executed by Exquisite Designs. There's no better way to start a party than with champagne! After a traditional dinner reception, guests filled the dance floor to dance to live music by TVK Orchestra. As guests tore up the dance floor, Hillary & Sean snuck away with Cristina G Photography to take some evening photos in front of all the city lights. Cristina G Photography also captured her now-iconic champagne bottle popping photo which is always a fun moment for couples!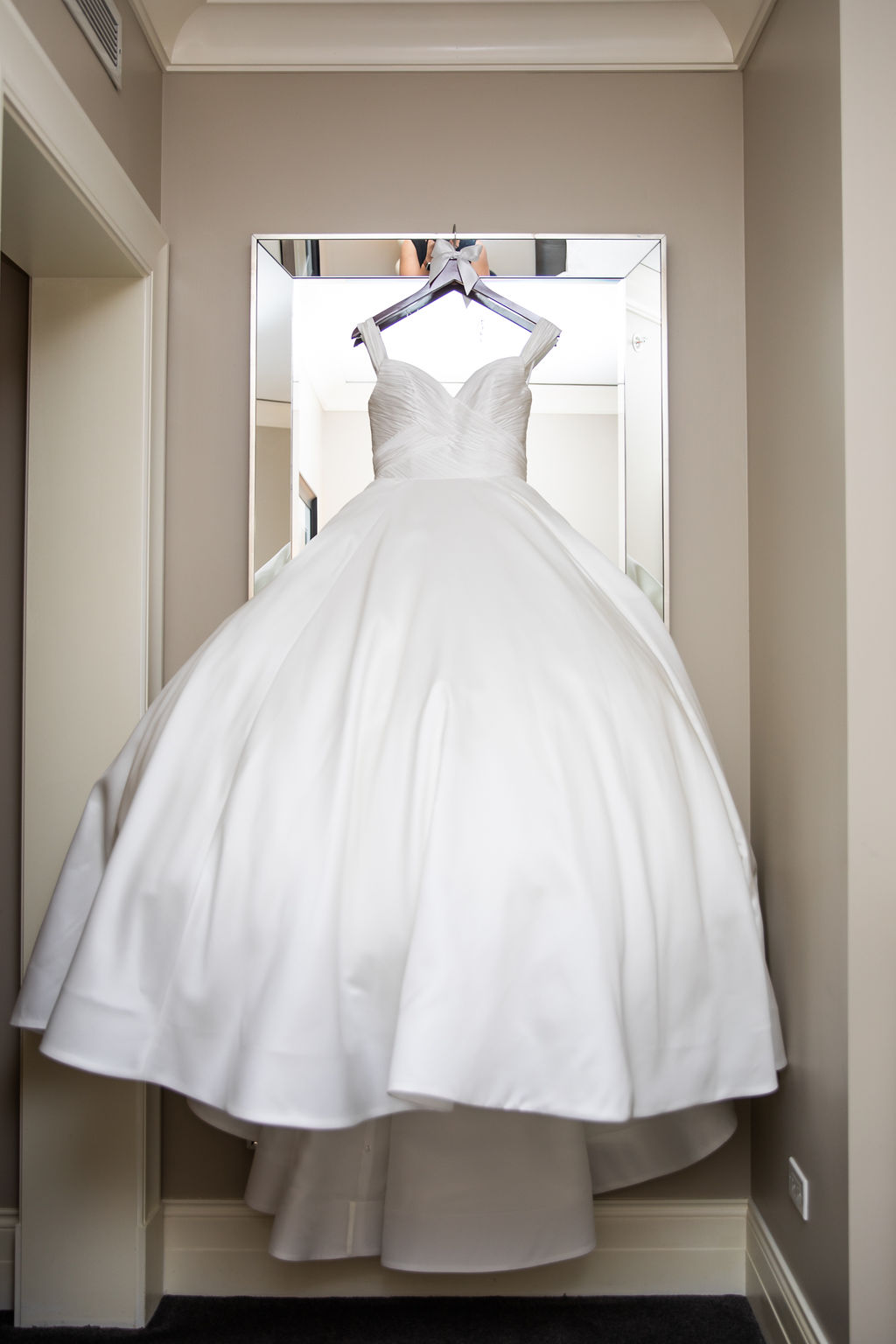 ---
Summer wedding at the Art Institute of Chicago's Stock Exchange Room Dream Team