When I first met Ann, I knew she was going to pull out all of the stops for her celestial-inspired wedding at Adler Planetarium. Her setting, Chicago's Adler Planetarium served as the perfect summer backdrop for her July nuptials.
We say it consistently: everything is in the details. From their 'guestbook' which formed a framed picture of the night's sky when Hansen proposed to the midnight color of their 'Perfect Match' matchbook favors and chocolates. Their invites comprised of a rotating picture of stars that detailed the full day of activities. Everything was just out of this world.
Ann and Hansen shared a ceremony that was beautiful and inclusive of traditional family customs. After their ceremony at Holy Name Cathedral, they enjoyed the skyline at the museum campus before welcoming guests at the outdoor terrace of the Galileo Ballroom. Once inside the ballroom, the tables came to life with orchids that reached toward the ceiling. Architectural centerpieces that sat atop mirrored tables made it seem as if the night sky was reflected throughout the space. 
One of my favorite moments as a coordinator happened as we were trying to shield Hansen from his surprise groom's cake. Ann took his hand and brought him outside. Of course, the best team of photographers and videographers were following them to capture the sunset skyline behind them as they embraced. 
We had an outfit change to end all outfit changes. The bright yellow embellished Saree was a stunning way to be reintroduced to an open dancefloor. It was now time for their mirror photo booth that used Adler's Planet exhibit as a backdrop. Who else can say they had a moon backdrop at their wedding?! I was so happy to see Ann and Hansen's family and friends enjoying every minute of their wedding. It was a celestial-inspired night to remember!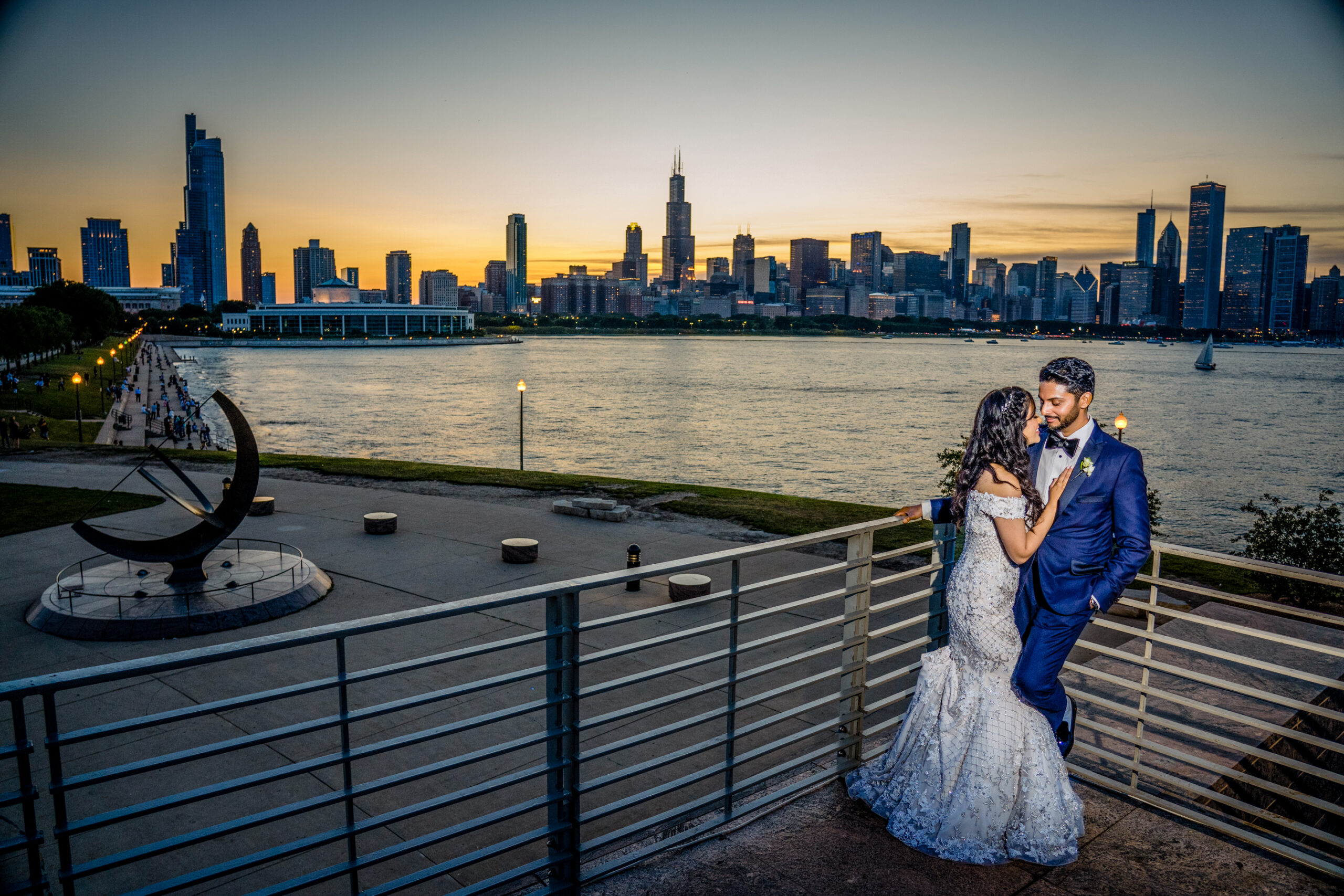 ---
Celestial Inspired Wedding at Adler Planetarium Vendor Team