Deepika and Aravind had an amazing gorgeous Jewel-toned South Asian wedding in two of Chicago's most historic buildings. The first was the St. Jane hotel where they hosted a traditional Hindu ceremony and lunch for their guests. The second was a breathtaking reception in the Winter Garden of the Harold Washington Library. The gold accents of each building worked so well with our jewel-toned and gold accents throughout our décor.
The traditional Hindu Ceremony took place bright and early at St. Jane! The girls were troopers, starting hair, makeup, and saree draping earlier than sunrise, but the ladies of Diem Angie's beauty team and Unnati Shah made magic, and the girls were absolutely stunning and ready to head down the aisle. The mandap was a traditional fabric structure, adorned with lush and fruitful floral in ivory, blush, and burgundy as a nod to the fall season that was upon us. HMR Designs nailed the ceremony stage, and Nicodem Creative and Aria Films captured this meaningful ceremony spectacularly.
After the formalities of the marriage were finished, guests dined on a traditional South Asian lunch as Deepika prepared for Act 2! She had a hair and makeup transformation and glammed up for her and Aravind's nighttime affair. She was so excited to twirl all night long in her stunning gold lehenga. The guys and gals took photos around town, and eventually made it to Harold Washington Library where guests were once again hungry and itching for some music to get them on the dance floor!
The room was glowing to perfection thanks to the lighting of MDM Entertainment. The florals from HMR carried out our theme from the morning ceremony, and the chairs from Ellie and Rose and linens from BBJ Linen added the perfect pops of color to the neutral space! The bride even decided to take on her own DIY task and hand-made her signage and escort cards to finish off the look! Aravind and Deepika twirled all night long on the dance floor to the tunes of DJ Chris and fun was had by all!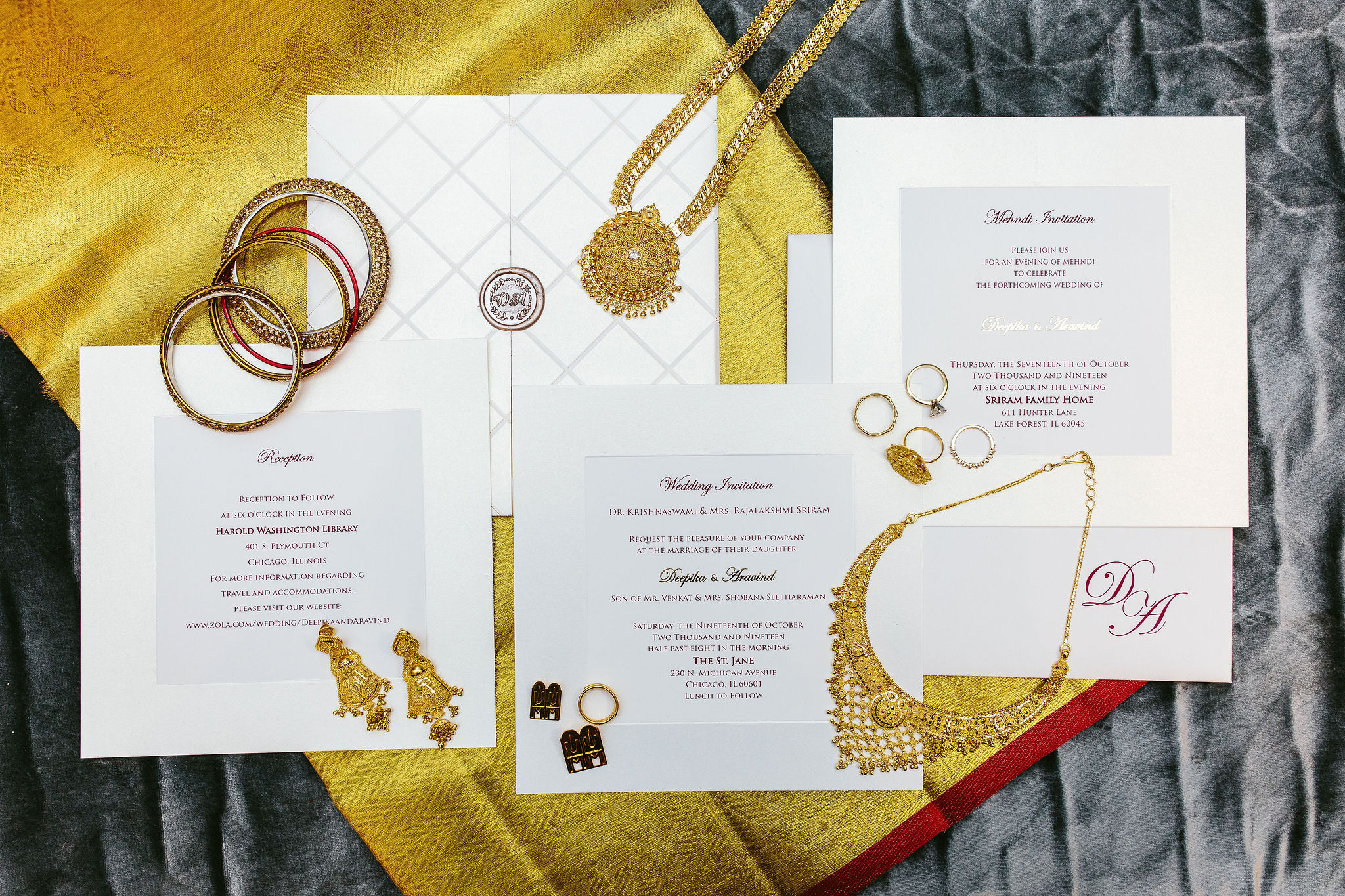 ---
Jewel Toned South Asian Wedding in two of Chicago's Most Historic Buildings