Molly and Justin's big day oozed with class and elegance, which is not much different than how I would describe them. They are the epitome of graceful, and when the global pandemic of 2020 hit just weeks before their first wedding date in April, they handled a postponement (which was a new concept to all of us at that point!) like professionals. We chose a date in the summer of 2021 to accommodate their brief move to California for Justin's residency, and never looked back!
To say I was excited for their big day to finally arrive was an understatement, and not because I wanted the planning to be over. In fact, it was the opposite. I enjoyed planning with this couple and their families so much, that I was so excited to see them get the perfect wedding day they truly deserved.
The day started at the Casey's home in the Gold Coast neighborhood of the city, which was the perfect backdrop for Molly and her bridesmaids to get ready. Gabe Post for Bianca Sansaosti was in charge of glamming the girls up, and that she did! Molly wore a stunning gown from Bella Bianca designed by Anne Barge, and she gave her gals the liberty to wear a gown of their choosing within our established color palette. Once ready for the day, the men arrived at the Casey's home and Molly and Justin did a first look on the front steps with Brittany Bekas and Robert Cawthorne documenting the moment. Family formals continued, followed by a photo session around Lincoln Park, where they would eventually end up later in the evening for their reception.
After photos, the couple headed to St. James Chapel in their Second City Trolley to renew their vows, and then everyone made their way over to Café Brauer to get the real party started!
When guests arrived, they grabbed their escort card from a gorgeous wall designed by HMR Designs prior to heading to the north loggia of the venue for drinks and apps provided by Blue Plate Catering. After cocktails, guests made their way into the Grand Hall where they were greeted by a soft and preppy color pallet of blues, greens, and soft blushes. Our centerpieces consisted of lush floral and foliage, and overhead were stunning ceiling focal of individually suspended blooms and orbs of candlelight designed by HMR Designs and Frost Chicago. A variety of linen danced through the space in shades of blue, green, and textural white. A top-the-head table was a massive floral installation to sit perfectly over our wedding party as they enjoyed their meal, and on their table laid a mirror table topper that captured the flickering candlelight illuminating the room. Custom menus and cocktail napkins were provided by Steracle Press to complete the look.
Once guests enjoyed their meal provided by Blue Plate, it was time to get the party going! Rush Street Rhythm from Gold Coast Events did their thing and got the whole crowd on the dance floor in a matter of minutes and kept them moving all night long! Sweet Mandy B's cake served as the perfect energizer for all that dancing, and we capped the night with a Lou Malnati's late-night snack. Molly and Justin had the day the perfect day, and it was such an amazing feeling to watch a couple I grew so fond of being celebrated by their loved ones in a manner that was most deserved.
Watch their video trailer here: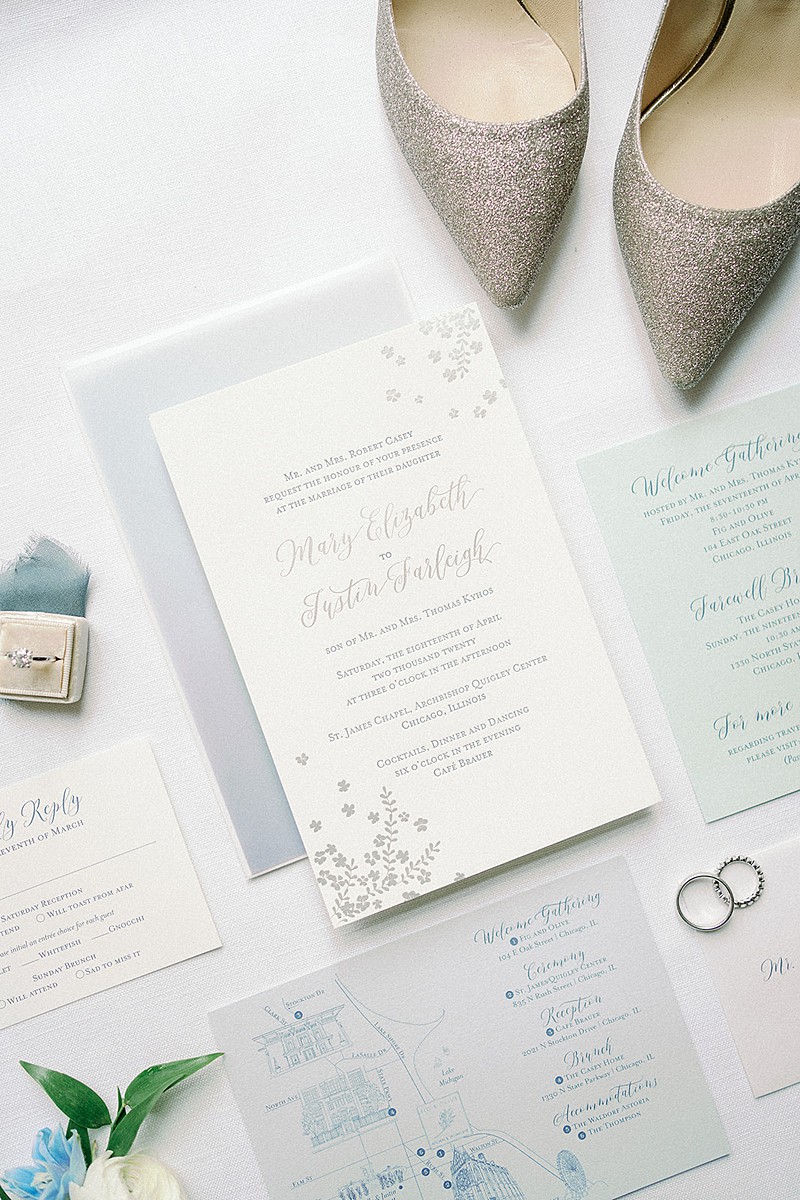 ---
Vendor Team