As a wedding planner in Chicago, I always LOVE when my clients and I get to plan an encore celebration after the wedding planning is in the rearview mirror. Melanee is a former Mother of the Bride and a member of our client family (see the vineyard-inspired wedding we planned for her daughter together here), so when she called me to help her plan an epic 60th birthday party, I knew we were going to have so much fun! She told me she just wanted to dance the night away under the stars. What better place to do that than at Morgan's on Fulton in the West Loop?
We designed the celebration around Melanee's boho spirit. She's a California girl, so we mixed a fun 1960s hippy vibe with lava lamps and macrame with a fresh palette of pinks and peaches that reminded her of sunsets on the beach in Santa Barbara. The mood was set with a gorgeous hand-dip-dyed invitation by Steracle Press. Cornelia McNamara Flowers created custom prayer candles of all Mel's favorite 60's bands and icons and mixed them in with cuttings all direct from her flower farm in Chicago (0 carbon footprint!). Cornelia and her team also created a flower crown-making station, which instantly put guests in the mood to celebrate.
Guests enjoyed custom cocktails and mocktails as they arrived, and a family-style meal and plenty of fresh seafood was served before DJ Matt Roan rocked tons of vintage tunes for dancing under a disco ball and boho lanterns. A photo booth with plenty of '60s-themed props and a customized 'birthday board' where Melanee could save all her memories, notes and photos also kept guests entertained. It was a good sign that everyone's feet hurt when the party ended from grooving and celebrating!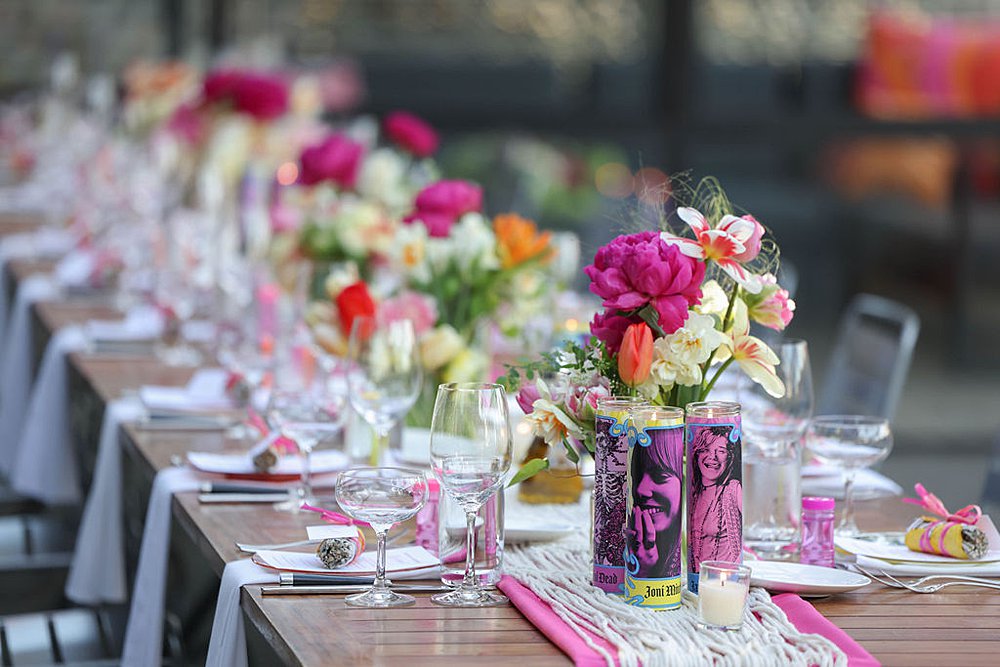 ---
Vendor Team