It's not uncommon for me to bond with my clients throughout the planning process, turning working relationships into friendships more often than not. Planning a wedding can be stressful, and time-consuming, and if I'm involved, fun, and when you have a partner to guide you through those stressful, busy, and fun moments, it's inevitable you'll form a bond.
It IS uncommon for me to have the opportunity to plan with someone who I have had that friendship with since I was 14 years old, and when my friends Bri and Matt asked me to help them put together one of the most important days of their life, I quickly jumped at the opportunity (after realizing and considering the enormous amount of pressure this would bring since there would be nowhere for me to hide from them if the day was less than perfect). Luckily – I don't do less than perfect, and since I was going to have the luxury of attending this event as a guest, I needed to make it the best of the best, and that it was!
The day started as Bri and her bridesmaids were primped and pampered by the team of Nicole Marie Salon in the Royal Suite at the Radisson Blu Aqua Hotel, where the reception would eventually take place. Once dolled up, Bri put on her jaw-dropping gown with detachable sleeves by Leah Da Gloria purchased from Dimitras Bridal, and her bridesmaids were dripping in quartz satin by Jenny Yoo purchased from Bella Bridesmaids. Matt and the men were just as timeless, dressed to perfection by Emanuele Tuxedo in black tie.
Once ready to head to St. James Chapel, the wedding party loaded on board their Premier Trolley and made their way to the ceremony. Bri and her brothers lingered behind to eventually hop into a vintage gold Bentley from Celebluxe Limos. It was the perfect way to arrive in style.
Once Bri and Matt said their I dos, the ceremony completed and it was finally time for a fun photo session with Amanda Megan Miller and Tim from Out of the Blue Videography. Bri and Matt drove in their gold Bentley alone with a bit of bubbly to their first photo location where they eventually joined the whole wedding party while magic was being made back at the Radisson Blue Aqua Hotel.
When guests arrived for cocktail hour, they were instantly greeted by a curated look from start to finish. Our escort card display had an ever-so-subtle grey ombre effect to keep things traditional with a touch of mood, and the display of family wedding photos was something to talk about. There was even a vintage phone from "Ater the Tone" that allowed guests to leave voice messages for the couple to listen to in lieu of a traditional guestbook.
The dinner space was really where we wowed and brought our moody, fall, vintage, vision to life! The floral, lighting, and décor by Kehoe design was something only dreams are made of. White, blacks, golds, and plum tones accented by subtle touches of foliage danced throughout the room along with unique residential touches like lamps, pillows, and knick-knacks. My absolute favorite detail of the evening was the 2 large, oval banquets that served as seating for the 4 tables that surrounded them. Tabletop décor was not forgotten – the perfect hues of linen were brought to life by BBJ linen, chargers and glassware from Hall's Rentals, mismatched chairs from Nuage Designs, and alternating black and white menus from Steracle Press were the perfect touch to keep the design interesting.
As guests enjoyed dinner, they listened to the sweet sounds of Ken Arlen's Evolution, gearing up the energy to tear up the dance floor, but before that could happen, we listened to heartfelt toasts and watched the sweetest moments.
Our Favorite Details
My favorite moment was the one Bri shared with her dad on the dancefloor, swaying back and forth to the sounds of Bob Segar's "Like a Rock" – there wasn't a dry eye in the house. Once the Kleenex was put away, it was time to dance, and guests packed the dance floor the entire night, only being lured from time to time to grab a slice of cake from Vanille, an espresso martini, or take a fun photo in the Snapbooth. To say I had the time of my life not only enjoying the fruits of my labor but planning with a couple that was extra special to me, would be an understatement.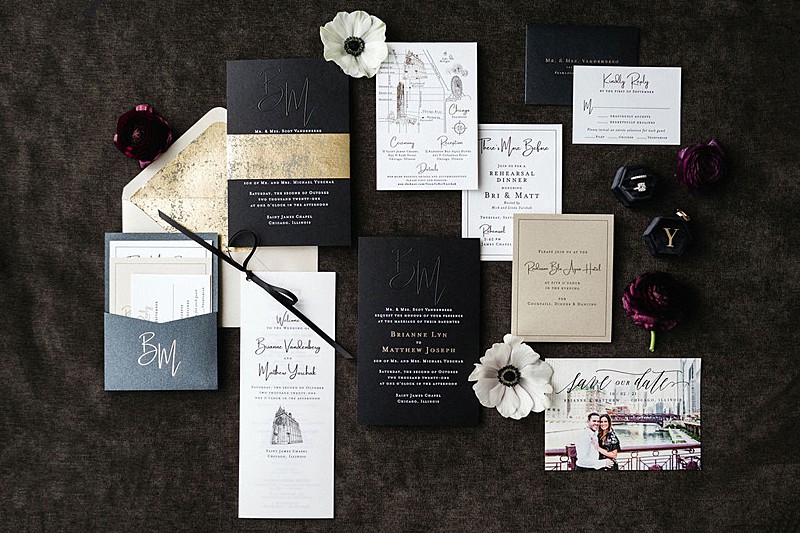 ---
Vendor Team