As a planner, I've had the privilege of working with countless couples, each with their unique love story and vision for their special day. However, there are always a few stand out couples that remain etched in my memory for their unparalleled beauty, creativity, and the warmth and energy of the couples themselves. Working with Melissa and Camdin on their special day was such a privilege, with the only downside being that it's over!
From the moment I spoke with Melissa on the phone, I knew we would get along. Her more is more personality and eye for design was a perfect match in heaven for me, and I was excited to help her bring it all to life!
The overall arching theme Melissa and Camden's wedding was their fearless embrace of color and pattern. They were not content with a muted palette but instead chose to immerse their special day in bright cerise and vibrant hues of blue. From the invitations to the lush florals by Fleur, every aspect was an explosion of color and pattern that reflected their joyful spirits.
The ceremony space was grand, featuring a three story, two toned blue drape from Frost Chicago adorned with a garland of pink ombre baby's breath. As Melissa walked down her Sweet Pea patterned aisle runner from BBJ, their friends and family listend in awe as their close friends sang a rendition of Make You Feel My love.
One of the tastiest aspects of Melissa and Camdin's wedding was the inclusion of a dim sum cart for cocktail hour provided by Food For Thought. This was a nod to Melissa's Filipino heritage and their shared love of food and cuisines from around the world. Beyond the stunning colors, exquisite florals, and delectable dim sum, what made Melissa and Camdin's wedding truly special was the love that radiated from them. From every speech and every hug that was given, it was evident that their people truly and whole heartedly love and support them. The wedding was not just about the décor or the food but also about celebrating the love they shared and the journey they were embarking on together.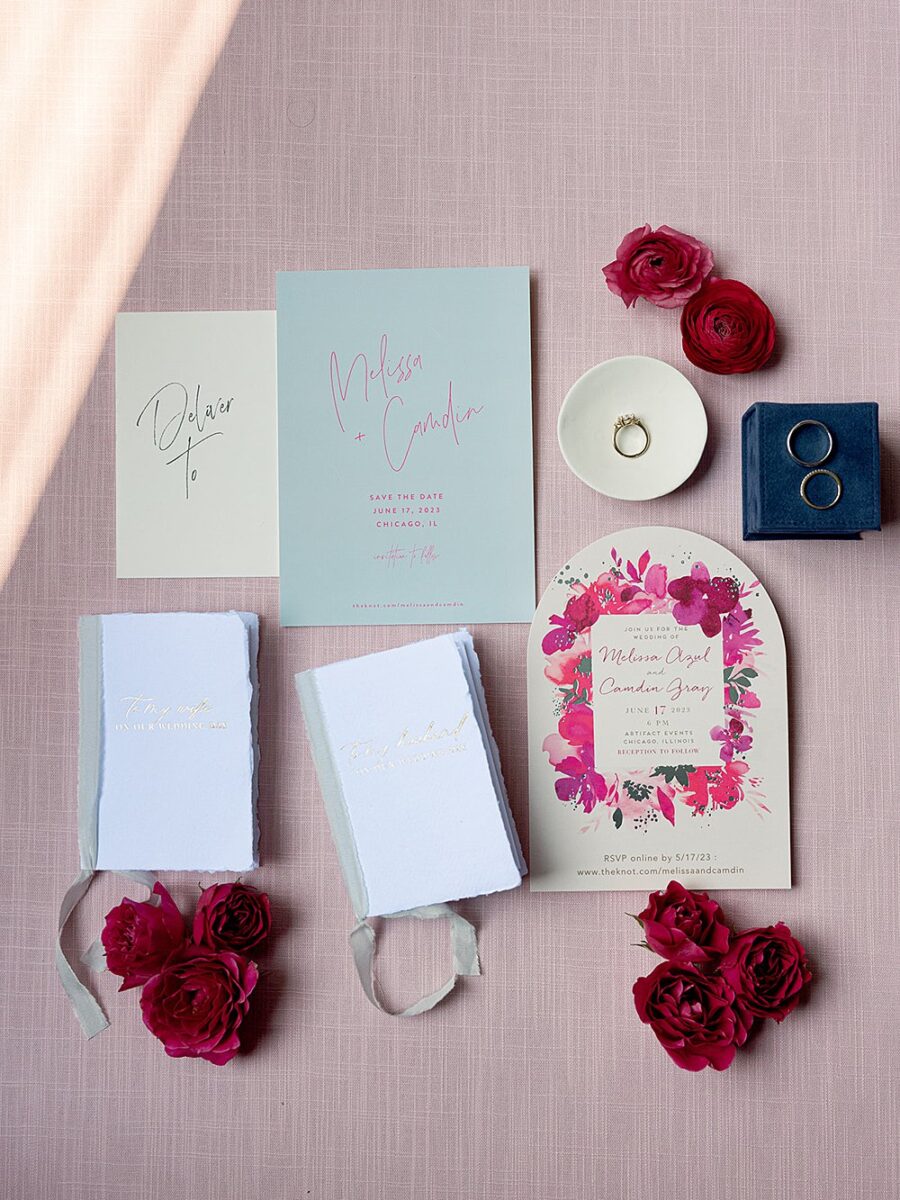 ---
Vendor Team