As a planner with experience, I've come to find that some of my best work comes from working with couples who I vibe with. Serena's first email to me mentioned her similar love of dirty martini's and exploring the Chicago restaurant scene, so I knew we'd be a match made in heaven. Together with her fiancé Kevin, we had a blast planning their August wedding with laughter every step of the way!
Their beautiful August summer day started out with the gals getting ready at the Gwen Chicago and the men getting ready at Serena and Kevin's new Wicker Park home. Once everyone was dressed and ready, we made our way to Notre Dame de Chicago which provided a lovely backdrop for Serena and Kevin's ceremony, which was presided by the family priest who has married Serena's parents and sisters and baptized her nieces and nephews.
Following the ceremony, guests made their way to Theater on the Lake for the reception, and they were in for a stunning treat. One of the standout elements of Serena and Kevin's wedding was the impeccable design. We used blue-patterned linens and white modern furniture to create a chic and timeless aesthetic. The combination of these two classic colors was the perfect canvas for our florals. The floral arrangements by Kehoe Designs were a true work of art. They featured shades reminiscent of a warm August sunset, with soft pinks, oranges, and whites. These hues not only added a touch of romance but also perfectly complemented the citrus fruits that adorned the tables. To incorporate more pattern and texture, we had fun choosing vessels with a chinoiserie design and included citrus fruits such as oranges, lemons, and grapefruits to add a sense of playfulness. These vibrant fruits added a pop of color and a refreshing, summery scent to the tables.
Serena and Kevin's caterer, Entertaining Company, surpassed all expectations with a delicious menu that left guests raving. The Chicago Players, the chosen band for the evening, kept the dance floor alive all night.
One of the most heartwarming moments of the evening was when Serena and Kevin invited Serena's grandparents to help them cut the wedding cake by ECBG, as it was also their anniversary that evening.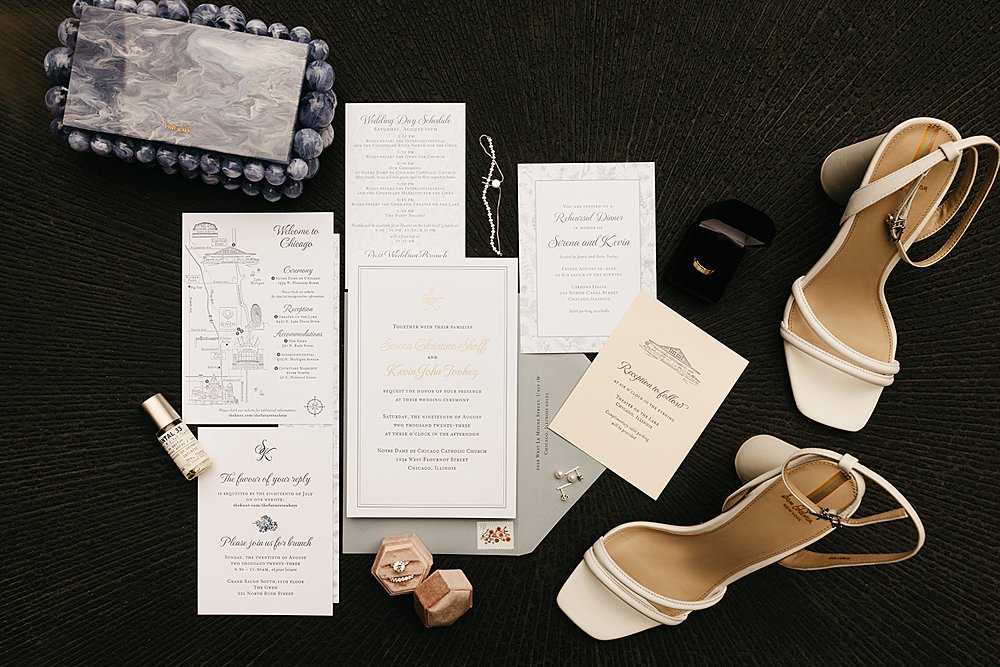 ---
Vendor Team