As a wedding planner, I've taken on my fair share of logistical challenges, but there's one wedding that will forever take the cake as being the wedding planned down to the minute —Jett and Elaad's whirlwind NASCAR weekend wedding at the Field Museum. From highly detailed logistics to vibrant floral explosions, this wedding was a rollercoaster of excitement, dinos and pure joy.
The couple's vision for their wedding was an explosion of vibrant colors couples with putting trees in as many places as we could find to do so in Stanley Field Hall. We incorporated summery hues of blue, pink, orange, yellow, and white into every aspect of the decor. The pièce de résistance was undoubtedly their chuppah, designed by the talented HMR Designs. It was a floral masterpiece, with an abundance of flowers and greenery that seemed to be in perpetual bloom. Tall trees lined up behind the chuppah, providing a dramatic backdrop, while a soaring Spinosaurus added a touch of whimsy to the scene.
When it came to the reception, the grand Stanley Field Hall was transformed into an enchanting olive tree oasis. The centerpieces created the illusion of a sea of olive trees, transporting guests to a Mediterranean paradise. It was an awe-inspiring sight, and the hall felt like a dreamscape bathed in the warm glow of summer.
Taking inspiration from the museum's fascinating exhibits, the couple's escort card display was a work of art in itself. Agate slices, fossils, and small skull replicas adorned the display, capturing the essence of discovery and curiosity. It was a nod to the treasures one could find within the Field Museum's hallowed halls.
Once the ceremony and dinner by Food For Thought were concluded, and the dino print cake by Flourish designs was sliced, the real party began. The dance floor was alive with energy from Greenlight Band, and guests reveled in the celebration. The traditional hora had everyone on their feet. It was a testament to the couple's love, heritage, and the coming together of two families.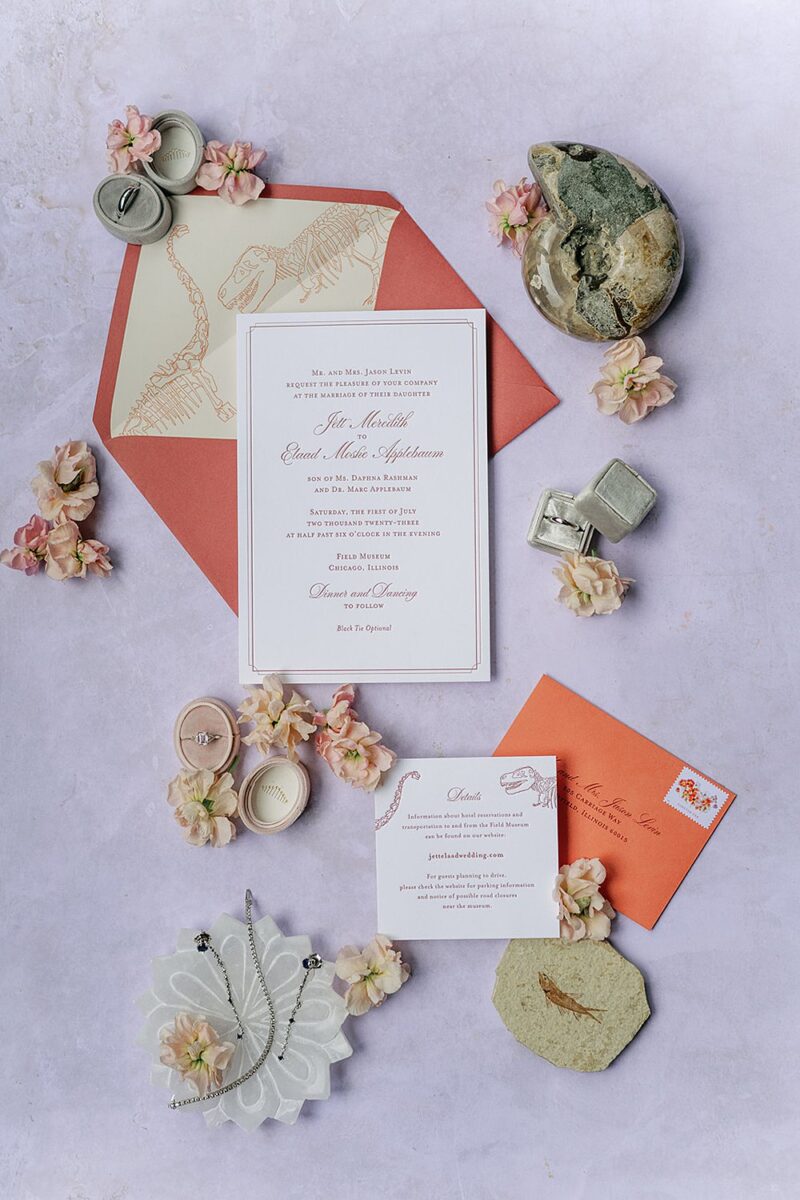 ---
Vendor Team