To say I had fun planning with AJ, Aaron, and AJ's parents (Kim and Clayton) was fun would be an understatement. They are literally rays of California sunshine when they walk into any room and can instantly brighten up anyone's day. I always looked forward to their next planning trip as soon as the last was done, as they were planning from afar in California. I even loved them so much, that I agreed to go to Adler a few weeks before the wedding for Clayton to pump out 150 pressed pennies from the penny machine so he could have enough pennies to pass out to every guest at the party as he greeted them with a "hello!"
Throughout the planning process, though AJ liked lots of choices, the vendor selection process went relatively easy, but when AJ came to me to chat about design, her Pinterest board was a bit all over the place and I wasn't quite sure what she was getting at. There were hints of modern, touches of garden style, tads of boho, and small essences of glam. For once in my design life, I wasn't quite sure where to start, but once I spent some time with it and AJ mentioned her and Aaron's favorite bar to visit is the Donovan Bar in London and I took a look at their Instagram, we had our official "ah hah!" moment and knew exactly where to begin, knowing we had a strict budget to stick to and that we'd have to make smart and sensible decisions!
Most of our vision relied heavily on strong elements that weren't necessarily floral-focused. A curved aisle to create a large amount of interest in our ceremony without any added cost, bold and sturdy chairs to anchor the design in color and weight, sleek and simple linens to create a blank slate for sunset florals to pop, a sleek black and white dance floor with an architecturally and linear inspired cake to sit atop, interior design elements like a bar with kick rails and lamps for centerpieces on smaller cabaret tables to lean into our restaurant inspired design, and round paper menus to take the place of a traditional charger.
When the big day came, all that was left to do was entertain their guests, who were coming in from all over the country and they could not wait to show off Chicago! A gorgeous ceremony took place in front of the greatest view in the city. Cocktail hour in Sky Theatre wowed their guests with a galactic star display while they drank their cocktails and ate their appetizers from Food for Thought, and dinner and dancing in the Solarium with DJ Chris capped off the most perfect evening in the best city in the world!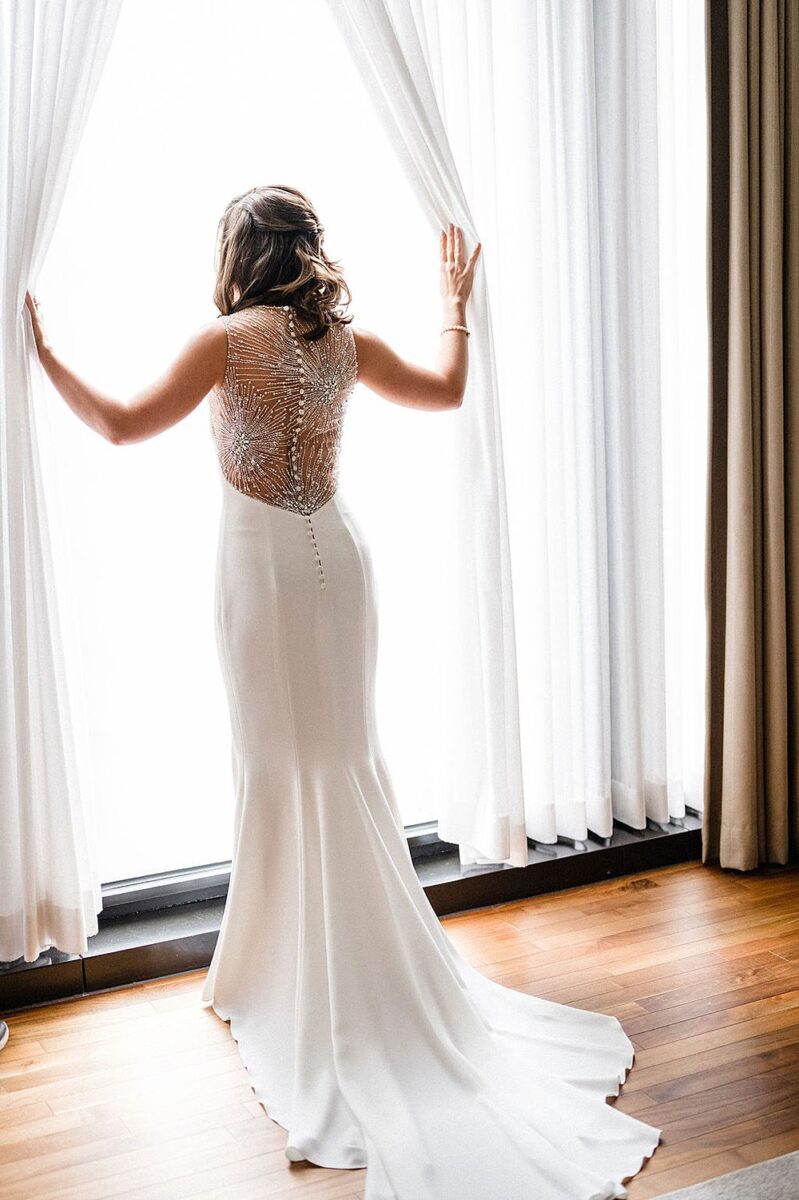 ---
Vendor Team